Sunflower Handcrafted 3D Pop-Up Card
Spend

$100.00

to

FREE SHIPPING
🌻 Welcome the warmth of sunshine and the radiance of summer with our Sunflower Handcrafted 3D Pop-Up Card!

🌻 As you open this exquisite card, a burst of vibrant sunflowers unfolds, reaching for the sky in a jubilant celebration of nature's brilliance. It's a stunning homage to the season of growth and vitality.

🌻 Handcrafted with meticulous attention to detail, each card is a labor of love, ensuring that you receive not just a card, but a piece of artistry. Whether you're sending a sunny greeting or celebrating a special occasion, this card conveys the spirit of sunshine and positivity.

🌻 Let the Sunflower Handcrafted 3D Pop-Up Card bring the joy of summer into your life, reminding you that, like sunflowers, you too can radiate brightness and warmth.

❀Flower Language❀

Adoration: Sunflowers are often associated with adoration and admiration. They symbolize feelings of love, warmth, and affection.

Loyalty: Sunflowers are known for their strong and upright growth, which can symbolize unwavering loyalty and faithfulness.

Happiness: The bright yellow petals of sunflowers are reminiscent of the sun and convey feelings of happiness, joy, and positivity. They can brighten up someone's day.

Longevity: Sunflowers are seen as a symbol of longevity and good health. Their robust growth and ability to thrive under the sun represent vitality and a long life.

Good Luck: In some cultures, sunflowers are considered a symbol of good luck and prosperity. They are often given as gifts to wish someone good fortune.

Fertility: Sunflowers have been associated with fertility and abundance due to their abundant seeds and vibrant growth.

Admiration from Afar: Sunflowers also symbolize admiration from afar. Just as sunflowers turn their faces toward the sun, they can represent the admiration someone feels for another person, even if they cannot be together.

Spiritual Growth: In some spiritual contexts, sunflowers are seen as a symbol of spiritual growth and enlightenment, as they follow the path of the sun.
View full details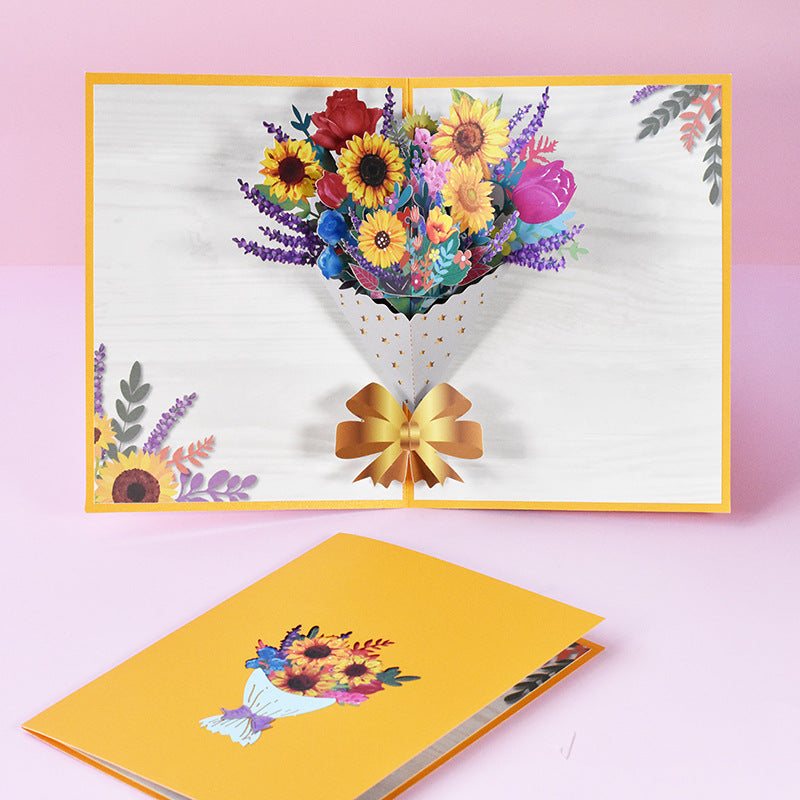 Sunflower Handcrafted 3D Pop-Up Card
SUBHEADING
Recently viewed products